Gearing Up For Future Growth, Maxis Announces New Strategy


Maxis Berhad (Maxis) today released its results for financial year 2018, delivering stable performance with healthy EBITDA. Despite challenging market conditions, the year saw Maxis turning in continued strong growth and leadership in postpaid, stabilising prepaid and growth in fibre. Profit After Tax (PAT) was impacted by one-off costs in Q4, associated with the launch of a new strategy to become a converged communications and digital services company in both the fixed and mobile markets.
New strategy for future growth
Maxis made a significant change to its strategy, setting the foundation to be a strong converged player in Malaysia. The Company has commenced scaling its business to address opportunities in Enterprise solutions and converged services across all segments, setting the development path over the next five years. Maxis announced an incremental capex of RM1 billion over the next three years to support this new strategy and its 5-year internal service revenue target of more than RM10 billion by year 2023.
Financial highlights Year-on-Year (YoY) 2018 vs 2017
Continued to grow and lead the market in postpaid, with revenue growing by 5.1% to RM4,072 million from RM3,873 million:
- 282,000 new subscribers added for the year, bringing the total subscriber base to above 3.1 million
- Growth was primarily driven by the strong demand for attractive and innovative device and value-accretive share line propositions
- Hotlink Postpaid Flex showed steady growth and together with MaxisONE Share, attracted a large number of entry-level postpaid subscribers and encouraged migration of prepaid subscribers to postpaid

Service revenue dipped by 2.5% to RM8,068 million from RM8,271 million. Nonetheless, it was a strong finish to the year as a result of the growth in postpaid and fibre which in turn mitigated lower revenue from prepaid.

Prepaid revenue declined 11.4% to RM3,399 million from RM3,838 million, mainly due to SIM consolidation and migration to postpaid. As a result of well-executed strategies and personalised offerings, prepaid revenue continued to stabilise.

The Hotlink RED prepaid offering showed positive traction with growth in Mobile Internet which now accounts for 57.1% of prepaid revenue, contributing to a high and stable prepaid ARPU of RM42 per month.

With the introduction of attractive and affordable plans, fibre revenue improved by 17% to RM359 million from RM306 million and our base grew by 33% with over 249,000 home and enterprise subscribers. The new affordable plans have further strengthened the converged propositions in providing total connectivity solutions for customers.

Normalised EBITDA margin on Service Revenue remained stable at 47.6%, driven by a focus on profitable segments and cost optimisation initiatives.

Normalised EBITDA was down 8.4% to RM3,843 million from RM4,195 million, primarily due to one-off costs in Q4 associated with the new strategy, including migration of the existing fibre base to new plans.

As a result of the one-off costs, Normalised PAT declined 14.7% to RM1,768 million from RM2,073 million, in line with the decline in EBITDA.

Declared a fourth interim dividend of 5 sen net per share. This brings the full dividend for the year to 20 sen per share.

YoY summary:

|   | FY 2018 (RM'm) | FY 2017 (RM'm) | YoY (%) |
| --- | --- | --- | --- |
| Service revenue | 8,068 | 8,271 | (2.5) |
| Normalised EBITDA | 3,843 | 4,195 | (8.4) |
| Normalised PAT | 1,768 | 2,073 | (14.7) |

Initiatives implemented in Q4:
Launch of converged offering for consumers: MaxisONE Prime – enabling families to choose a combination of any MaxisONE Plan starting from RM98 a month, and any home fibre plan of their choice starting from just RM89 a month.


Introduced Hotlink Postpaid Flex Plus - making it easy for customers to move to postpaid and to own a brand new range of devices from as low as RM1, and enjoy 10GB high-speed Internet with unlimited calls to all networks.


Launched Hotlink Rewards - Enabling prepaid customers to have access to more exciting deals and discounts by simply logging into their Hotlink RED app to earn points.


Zerolution360 - our innovative device ownership plan that contributed to postpaid growth.


Signed service agreement with Gamuda Land - Co-investing with a top property developer, bringing converged offerings to residents through a customised MaxisONE Home fibre plan with fixed offerings and superior mobile coverage.


Signed agreement with Sacofa - to have full access to their High Speed Broadband Network Services in Sarawak, making fibre broadband available for even more consumers and businesses in Sarawak, as the only access seeker in the market.


Strong take-up of Business Fibre plan - Sign ups went up by 6 times versus pre-Fibernation campaign

Comment by Robert Nason, Chief Executive Officer, Maxis:
"We closed 2018 by maintaining a strong core operating performance. We strengthened our competitive position in the market with some significant moves – we led the market with new affordable home and business fibre plans and grabbed first mover advantage through our fibrenation campaign. We are currently the only operator in Malaysia capable of offering a full combination of both fixed and mobile technologies for consumers and enterprises. Our one-off costs in Q4 were a necessary investment in the interest of our customers and for our long-term growth strategy. Overall, we are happy with our results and the substantial progress we have made during the year."

Comment by Gökhan Ogut, Chief Operating Officer, :Maxis
"We know that the challenging times will continue as competition remains intense and we are responding well to rapid changes in the market and customer behaviours. We want to continue to lead the market, competing effectively in our core mobile business and expanding into converged offerings and the Enterprise segment. The foundation of our growth continues to be our differentiated 4G LTE network, in which we amplified our leadership among all networks in Malaysia in terms of speed, performance and experience, as attested by MCMC's recent 2018 Network Performance Report. Meanwhile, we will leverage our digital capabilities which we have developed over the last three years to provide an unmatched personalised experience for all our customers."

To view Maxis' FY2018 financial results video release, please click https://youtu.be/DOAn5uALBA8


---
Popular Posts
collections

collections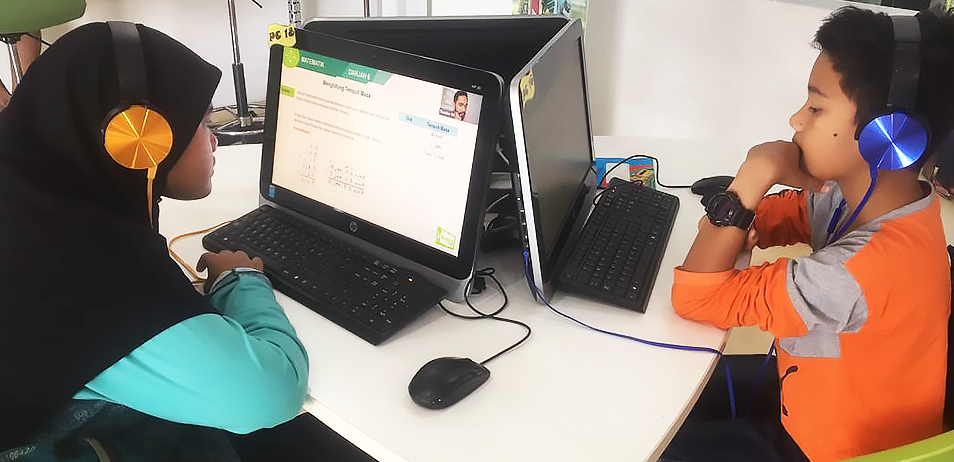 It was a bright and breezy Saturday morning at Kampung Quop, Kuching, Sarawak. Daphne Xandria with 19 of her Year 6 school friends were heading to the Pusat Internet to have their first experience learning about fractions with eCikgu.
collections

As the saying goes, 'smile, and the world will smile with you.' Hotlink and McDonald's Malaysia have teamed up to reward Malaysians…for simply smiling!