Maxis & MOE Announce Successful Completion Of The Maxis eKelas Pioneer Programme
Maxis & MOE recognise 30 schools that successfully completed the Maxis eKelas pioneer programme, launched in 2012
Maxis eKelas now ready for full scale deployment to the 2,300 secondary schools nationwide for free
Maxis eKelas is also available to the Maxis and Hotlink customers at a nominal fee of RM25 per month for the first account, and RM20 for the second account onwards
Maxis continues to support the government's efforts in the area of education through ICT learning
MEDIA RELEASE
For immediate release
Kuala Lumpur, 23 May 2013
Malaysia's only integrated communications service provider, Maxis Berhad (Maxis), in partnership with the Ministry of Education (MOE), today held a special ceremony to recognise the 30 selected secondary schools who have successfully completed the Maxis eKelas pioneer programme. The 30 schools, comprising 900 students and 120 teachers, were among the first to be introduced to the Maxis eKelas programme, an interactive online learning service launched in 2012 that features effective learning and teaching supplementary tools by leveraging on readily available school ICT infrastructure. Following the successful completion of the pioneer programme, Maxis and MOE are now ready for full scale deployment of the Maxis eKelas service for free to all 2,300 public secondary schools nationwide beginning this June.
The recognition ceremony was attended by YBhg Tan Sri Abd Ghafar Mahmud, Director General of the Ministry of Education, YM Raja Tan Sri Dato' Seri Arshad Raja Tun Uda, Chairman of Maxis, as well as students and teachers from the 30 schools.
"Having seen the impact this programme has had on the schools, we are excited to provide this service to the rest of the public secondary schools in Malaysia with the hope that they too will benefit from this innovative learning service. We believe that Maxis eKelas will provide students with an experiential and exploratory method of learning which will make a difference in how they approach their day-to-day studies. With this initiative, we are also pleased to support the government's efforts in capacity building, helping to develop a future society that is technologically literate, dynamic and innovative through ICT learning," YM Raja Tan Sri Arshad said.

Meanwhile, YBhg Tan Sri Abdul Ghafar said, "The Ministry of Education gives a strong focus on the Smart School agenda as it helps in expanding access to quality and affordable education to all Malaysians. The provision of Maxis eKelas as a free service to all secondary schools nationwide is a noble effort from Maxis in contributing to national education, which is part of their Corporate Responsibility initiatives."
During Maxis eKelas' pioneer programme, students and teachers from the participating schools were given supplementary online learning tools which focused on knowledge acquisition through adaptive, experimental, experiential and relevant real world scenarios. Content and delivery of Maxis eKelas is adaptive to student need, and is continuously moulded to deliver an innovative educational experience.
To create excitement for the service, Maxis introduced the Maxis eKelas Challenge for participants during the pioneer programme which was divided into two categories - the school challenge and the student challenge. For the school challenge, teachers are given three months to use Maxis eKelas as a supplementary tool in their schools, during which they are required to submit best practices of instructional design using Maxis eKelas. For the student challenge, all 900 students sit for an online exam, of which the school with the highest score is recognised. The exam consists of topical Math and Science questions as well as the understanding of Maxis eKelas functions and activities.
"I believe that through activities such as the Maxis eKelas Challenge, we can reach six of the students' aspirational goals which are knowledge, thinking skills, leadership skills, bilingual skills, ethics, spirituality and national identity. Students need to realise that they should participate in activities such as this competition as it helps foster excellence and therefore puts our young generation on equal or higher level with those in developed countries," added Tan Sri Abdul Ghafar.
The winner for the school challenge was SMK Tunku Besar Burhanuddin from Negeri Sembilan, who received prizes worth RM15,000. SMK Cyberjaya was named the winner of the student challenge and received RM4,000 worth of prizes. The prizes consist of interactive educational tools and gadgets that will further assist students, teachers, and schools in their learning and teaching activities.
Maxis eKelas is now also available to all Maxis and Hotlink customers for RM25 a month for the first account, and RM20 for the second account onwards. All they need to do is to sign up for the service at www.ekelas.com.my. Here, they can create an account and enjoy the services.
The Maxis eKelas programme is a result of the smart partnership which was initiated between Maxis and the MOE in 2011, to support the government's continuous initiative to increase ICT usage in schools through creative learning. This smart partnership between Maxis and MOE marks another milestone in a series of corporate responsibility initiatives undertaken by Maxis. Since 2002, Maxis has worked closely with MOE in the Bridging Communities programme, providing Malaysians from underserved areas with access to the internet and exposing communities to internet tools. Furthermore, through its flagship Maxis Cyberkids Camp project, Maxis has touched approximately 8,600 students and teachers from about 1,500 schools by equipping them with technological skills to adapt to a rapidly evolving world.


- End -
About Maxis Berhad
Maxis Berhad is Malaysia's only integrated communications service provider with RM8.9 billion revenue in 2012 and over 14 million subscribers. As one of Malaysia's most admired home-grown brands, Maxis has evolved from being a premier mobile operator to one that offers an extensive suite of services to enrich its customers' lives whether at home, at work or on-the-go: mobile and fixed voice, messaging, mobile internet, wireless and wired high speed broadband, and multi-screen content and applications - be it entertainment, education, security or cloud computing - through mobile, fixed and satellite networks. Maxis launched the first high-speed networks in Malaysia including 3G, 3.5G, 3.5G+ and was the first to launch 4G LTE (Long-Term Evolution) early this year. Maxis' high-speed network footprint is the largest in the country with 95% 2G and 82% high-speed 3G coverage.
As a key supporter of the Malaysian application development ecosystem, Maxis partners with local developers to bring innovative applications to its customers while also making available the widest range of localised content in the market, with a selection of free Apps that appeal to different segments across various smart devices. Maxis' efforts in innovation, excellent customer service and providing value to stakeholders have earned the Company numerous awards including the historic win of 20 awards at the 13th Customer Relationship Management and Contact Centre Association of Malaysia (CCAM) Annual Awards in 2012, Best Managed Company, Asia's Best Employer, Putra Brand of the Year Awards in 2011 and Top 5 Best Global Operator Award by World Communication Awards in 2012 and 2010. Committed to contributing to the communities it operates in, Maxis' Corporate Responsibility efforts focus on making a 'Positive Impact', harnessing leading-edge technology to create value for the economy, society and the environment. For more information, please visit: maxis.com.my
---
Popular Posts
collections

collections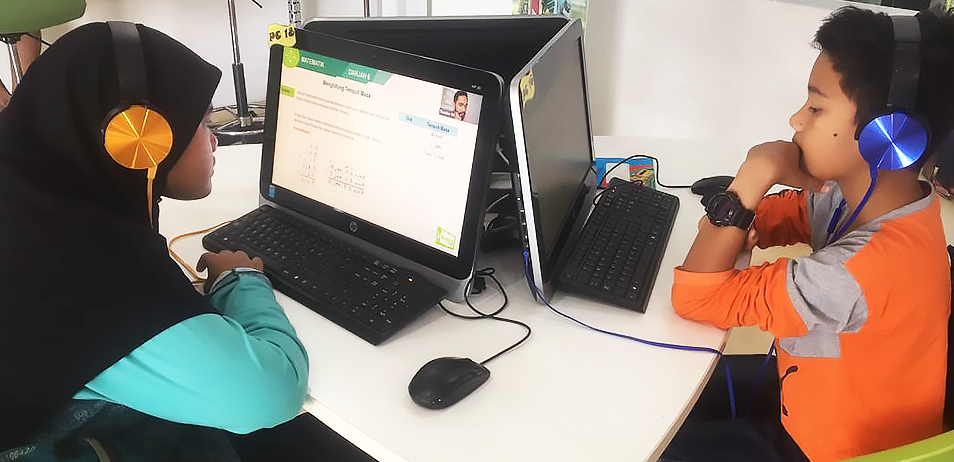 It was a bright and breezy Saturday morning at Kampung Quop, Kuching, Sarawak. Daphne Xandria with 19 of her Year 6 school friends were heading to the Pusat Internet to have their first experience learning about fractions with eCikgu.
collections

As the saying goes, 'smile, and the world will smile with you.' Hotlink and McDonald's Malaysia have teamed up to reward Malaysians…for simply smiling!