Maxis wins big at Malaysia Effie Awards, Kancil Awards and Putra Brand Awards
Sweeps up most coveted trophies with the 'Brand of the Year' at Malaysia Effies, 'Advertiser of the Year' at Kancil Awards and 'Putra Hall of Fame'
Achievements underline Maxis' relevance as a brand and marketer to an evolving consumer landscape in Malaysia and its commitment to innovation

Maxis achieved a hattrick when it made a clean sweep of highly coveted brand accolades – at the Malaysia Effie Awards 2019, Kancil Awards 2019, and Putra Brand Awards 2019 – demonstrating its commitment to the market and to innovation. This achievement is notable due to the unique criteria of the respective award shows; whereas the Putra Brand Awards is based on the feedback of consumers, the Kancils are judged largely by the creative industry and the Effies are helmed by leading practitioners in marketing. Maxis is committed to a culture of excellence in branding and marketing, in line with continuous efforts to relate to and enable consumers to always be ahead.
"We are thrilled and at the same time extremely humbled by this achievement. Being recognised validates what we have been tirelessly working towards – to relate to constantly evolving needs of society, feature technology as a means of empowerment and to be a driver of positive transformation. Also, we are thankful for the range of work that received acknowledgement, spanning mobile solutions, fibre offerings, technology innovations, underserved segments and festive opportunities, amongst others. Maxis is driven by the immense potential of people and the role that we play as a converged solutions provider that enables Malaysians and Malaysia. Of course, all of this would only have been possible with our partners and the people else who have inspired us to keep striving to always be ahead," said Tai Kam Leong, Head of Brand and Marketing, Maxis.
Commitment to creativity
At the recent Malaysia Effie Awards 2019, Maxis won a number of accolades including:
Brand Of The Year - Maxis was named 'Brand of the Year', having won one Gold, one Silver, and four Bronze awards


Telco products & services:
David vs Goliath:
Positive Change: Social Good - Brands
The Effies, in its 12th edition this year, honours achievements by campaigns that meet and exceed marketing communications objectives with a focus on effectiveness. From a total of 138 entries, 40 finalists were shortlisted, with two Gold, eight Silver, and 20 Bronze awards presented to brands for their creative campaigns. In addition, each finalist also received Effie points that contribute to the creative agency's ranking on the Global Effie Index.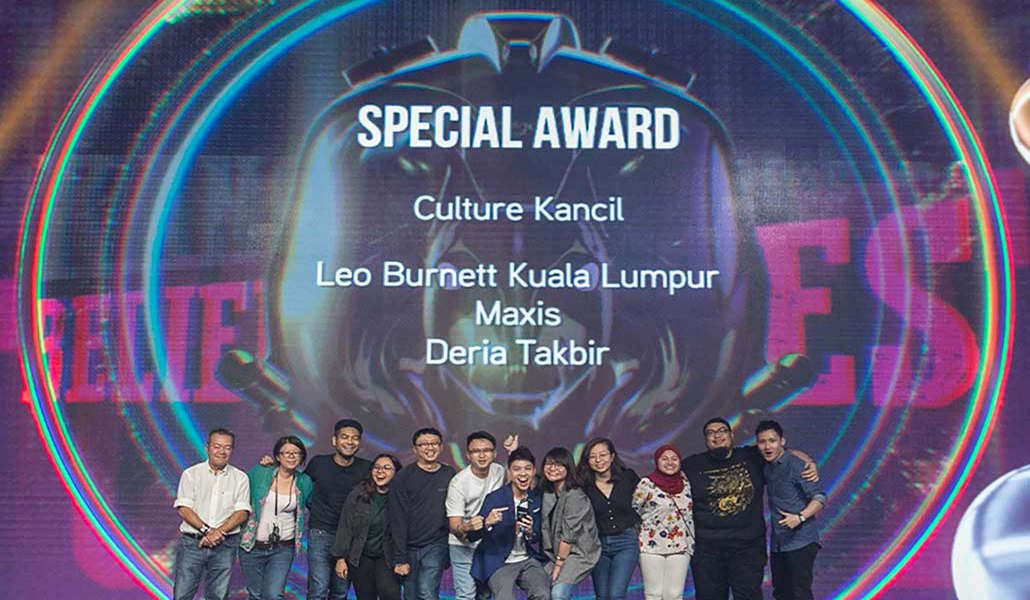 Turning occasions into meaningful experiences
Maxis also clinched the coveted Advertiser of the Year and Gold Award for Best Use of Cultural Insights in Brand Experience & Activation category, for its Deria Takbir campaign at the Kancil Awards 2019. The campaign, which was launched in conjunction with Raya this year, brought the best of technology to people via an app that enabled the hearing impaired to experience the Takbir in a very unique way.
The Kancil Awards recognises home-grown Malaysian creative excellence in advertising. Its importance is attested to by the active participation of the industry's creative leadership represented by creative heads who are award winners in their own right, here in Malaysia and at international creative shootouts.
To learn more about Maxis' Deria Takbir campaign, please visit https://www.maxis.com.my/about-maxis/newsroom/2019/may/maxis-celebrates-hari-raya-with-mobile-app-for-the-deaf-launching-first-on-ios/ or watch the video at https://www.youtube.com/watch?v=M3hQGM1Cm3c
Customers at the very heart of Maxis' operations
In September, Maxis took home the inaugural Putra Hall of Fame and Platinum Award at the Putra Brand Awards 2019. The Putra Hall of Fame Award was created this year to honour the very best of Malaysia's favourite brands that have consistently won the highest award in their respective categories over the past 10 years – Maxis had won the Gold in the Communication Networks industry for 10 consecutive years since 1999. Also newly introduced this year, the Platinum Award supersedes the previous Gold Award. A maximum of only one Platinum award is presented in each category.
The distinguished Putra Brand Awards recognises brand-building as an integral business investment, where consumers themselves play the role of judge by voting for their favourite brands. This year saw participation by 8,000 consumers, and presented a total of 159 awards across 23 categories.
Click the link to learn more about the Malaysia Effie Awards, Kancil Awards and Putra Brand Awards.
Watch Maxis' 2019 highlights to learn more https://youtu.be/iR9wrDg-bqA