Maxis eKelas continues to enrich students' English learning through HIP English StoryFest Competition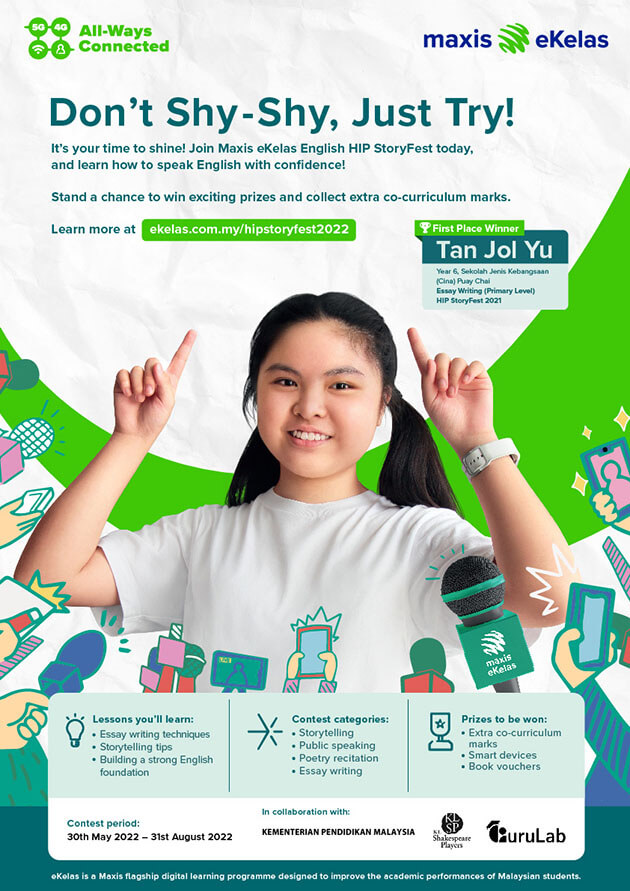 Immensely popular Maxis eKelas HIP English StoryFest Competition back with exciting, new challenges to inspire Year 4 to Form 5 students to improve their English proficiency
Competition aimed at enriching students' learning and building their communication skills and confidence
Students have access to virtual coaching via content, workshops and practice, while Abang Portal helps students with questions
The immensely popular Maxis eKelas Highly Immersive Programme (HIP) English StoryFest Competition is back for the fourth year running with exciting and new challenges to inspire Year 4 to Form 5 students. The competition, which is aimed at enriching students' learning, will give them the opportunity to build their communication skills and confidence. Registration is open until 31 August 2022, and students are encouraged to register to participate through www.ekelas.com.my.
HIP was introduced by the Ministry of Education (MoE) in 2016 with the aim of improving the English proficiency of students by increasing their exposure to the language through a variety of activities in and out of the classroom. Since 2019, eKelas has been recognised by MoE under its HIP initiative, where eKelas students who participate in the competition can collect co-curricular marks which are included in their school certificate.
"The eKelas HIP English StoryFest Competition provides a truly immersive experience to help students learn English in fun and engaging ways, complementing their academics at school. We are proud to see an increasing number of students participating in the competition every year, with more than 3,500 last year alone. We will continue to bring the best digital content to students especially from rural communities and hope to see more of them participating in this year's competition," said Mariam Bevi Batcha, Chief Corporate Affairs Officer, Maxis.

"We welcome this initiative from Maxis through its eKelas programme in support of the Ministry of Education's Highly Immersive Programme. It gives students a different platform beyond the school environment to practice communicating in English, especially when they can interact with students from other schools. I would like to encourage teachers to motivate their students to participate in the competition and benefit from the additional learning opportunities provided," said Yang Berusaha Dr. Faizulizami Binti Osmin, Chief Assistant Director of the Sports, Co-curriculum and Arts Division, Ministry of Education Malaysia, who attended the recent virtual launch event.
The recent virtual launch of the competition saw more than 750 school leaders, teachers and district officers throughout Malaysia tuning in. The highlight of the interactive event was a storytelling workshop conducted by KL Shakespeare Players, giving a glimpse into a series of workshops that have been lined up to support students. Teachers also had a sharing session on teaching English in a fun way as well as tips on how to guide their students to submit the best entries for the competition.
The annual eKelas HIP English StoryFest Competition was introduced in 2019, offering students a blended, interactive experience with access to virtual coaching via content, workshop and practice to boost their confidence, while the Abang Portal (Community Manager) helps students with questions and guidance on content.
eKelas is Maxis' flagship community programme that aims to improve the academic performance of students in rural communities. As an after-school digital learning initiative for students from Year 4 to Form 5, the programme brings learning enrichment in a fun and vibrant way and provides access to quality education content, in line with the Malaysian School Syllabus. Focusing on Science, Mathematics and English, students are exposed to experiential learning through a combination of live tutorials, group learning, competitions and digital content via the eKelas portal and app. eKelas today provides a complete digital learning experience, including opportunities for students to take part in campaigns like STEM competitions for coding, creative and designing thinking skills, essay writing competitions.
Students can sign up for the competition from now until 31 August and get access to free workshops at
www.ekelas.com.my